F-35 Shows Its Popularity by Beating Sales Expectations in 2021: The F-35 Lightning II had a good year in 2021.
It is selling well – both domestically and overseas. Airplane delivery to international air forces beat expectations last year. And when customers around the globe acquire the 5th-Generation airplane they are buying in bunches. This is giving F-35 manufacturer Lockheed Martin an edge going into 2022.
The Finns and Swiss Have Placed Substantial Orders
Lockheed sold 142 F-35s last year – three more than it forecast. Switzerland and Finland signed on to be new customers and ordered the stealth fighter. Finland announced at the end of last year that it wanted 64 F-35s to replace its older F/A-18s. The $9.44 billion Finland deal was notable because Lockheed beat out multiple competitors from five different defense firms. The Finns will receive weapons and maintenance in the contract.
Switzerland wants 36 F-35s in a $6.35 billion proposal that must be approved by the Swiss Parliament, but again, this shows that the airplane's demand is soaring. The proposal also includes logistics, training, and technical support.
The Dutch Hit a Milestone with the F-35
The Royal Netherland Air Force said at the end of the year that four F-35s are ready to fly in an initial operational capability announcement. This is a big bump for the Netherlands as it has been flying F-16s for the last 30 years. When the Netherlands achieves full operational capability for its F-35s, they will join an exclusive club. Australia, Italy, Israel, Norway, Japan, the United Kingdom, and the United States are some of the countries that can deploy an F-35 with global reach.
The Dutch bought 24 F-35As and plans to acquire another 24. Thus far, the 55 Dutch pilots qualified on the F-35 have hit the skies for at least 9,000 flight hours on the F-35.
Allies Can Meet the Challenge of Adversaries in the Sky
Fifteen countries are flying the F-35 stealth fighter. These are mainly NATO members that can balance against the Russians. But Japan, South Korea, and Australian F-35s can give China pause, and Israel can go up against Iran with their version of the advanced fighter, the F-35I Adir. Denmark has received its first Lightning II while Spain, Greece, and the Czech Republic are kicking the tires and may acquire their own F-35s.
2022 should be another good year in terms of sales for the F-35. However, it will deliver slightly fewer airplanes than it originally forecast. Still, that will likely be 151 to 153 sold in the next 12 months – a respectable amount. Beginning in 2023, there may be an additional 156 airplanes sold to the United States.
It's a Global Force
The Joint Strike Fighter program has achieved its goal of making the F-35 a global airplane.
There are more than 730 F-35s flying from nearly 30 installations around the globe. At least 1,500 pilots have qualified to fly, and 11,500 support technicians are working on the airplane, while the aviators have totaled close to 500,000 flight hours.
Multi-Role Fighter Has Many Mission Options
One reason the F-35 is popular is because of its versatility. It can take off from a regular runway, it can be launched from a carrier, and it can conduct short-take-off and vertical landing. The fighter can intercept enemy warplanes, dog fight, drop bombs (maybe nuclear weapons someday), deliver close air support, collect intelligence, and conduct electronic warfare missions.
It Can Lead the Team From the Sky
Perhaps the most unique characteristic of the F-35 is its data processing mode. It can "quarterback" a mission. That means it can collect ground, sea, space, or air information and pass the data to other aircraft or units on the battlefield.
For example, in close air support situations, the Air Force combat controller on the ground may not be able to see over-the-horizon threats, but with the F-35, a special operations unit would be informed of the danger.
The F-35 can also "call an audible" and communicate with older airplanes to pass along targets and direct their flight – an aspect of aerial fighting that otherwise wouldn't be available.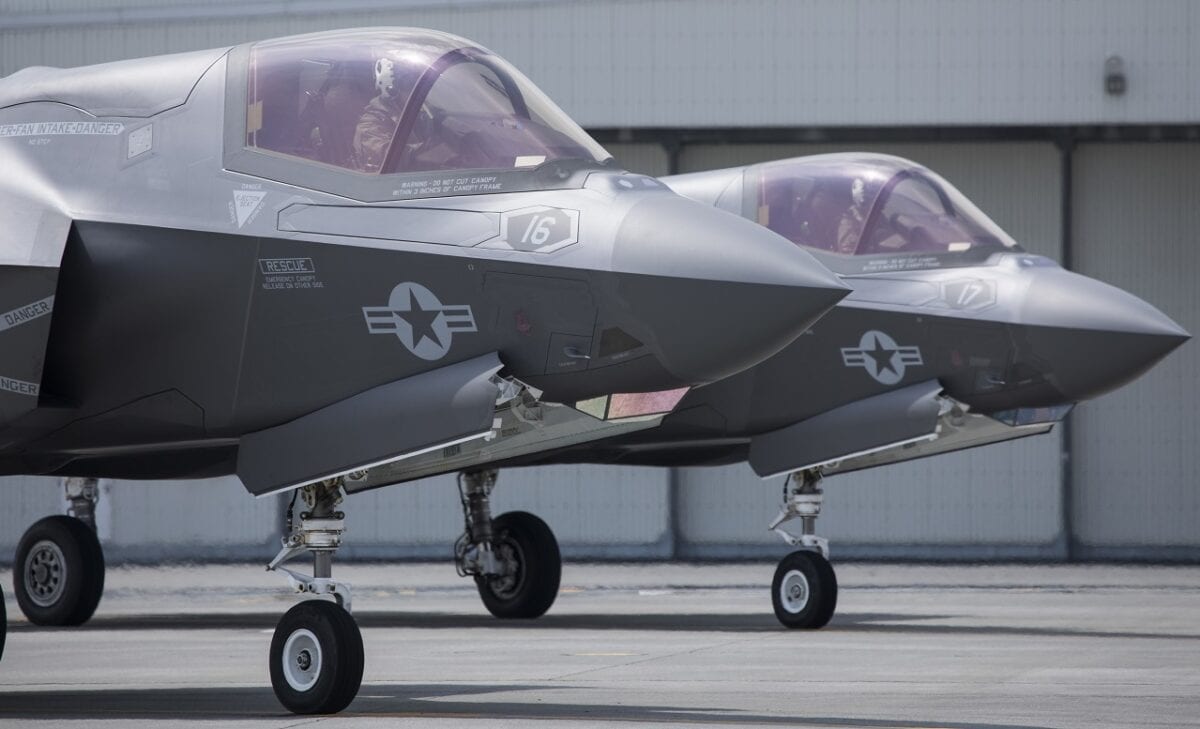 U.S. Marine Corps F-35B Lightning ll aircraft with Marine Fighter Attack Squadron (VMFA) 121 prepare for takeoff from Marine Corps Air Station Iwakuni, Japan, April 8, 2021. VMFA-121 is the first forward deployed Marine F-35B squadron, capable of providing close air support and conducting strike missions in support of a free and open Indo-Pacific. (U.S. Marine Corps photo by Cpl. Jackson Ricker)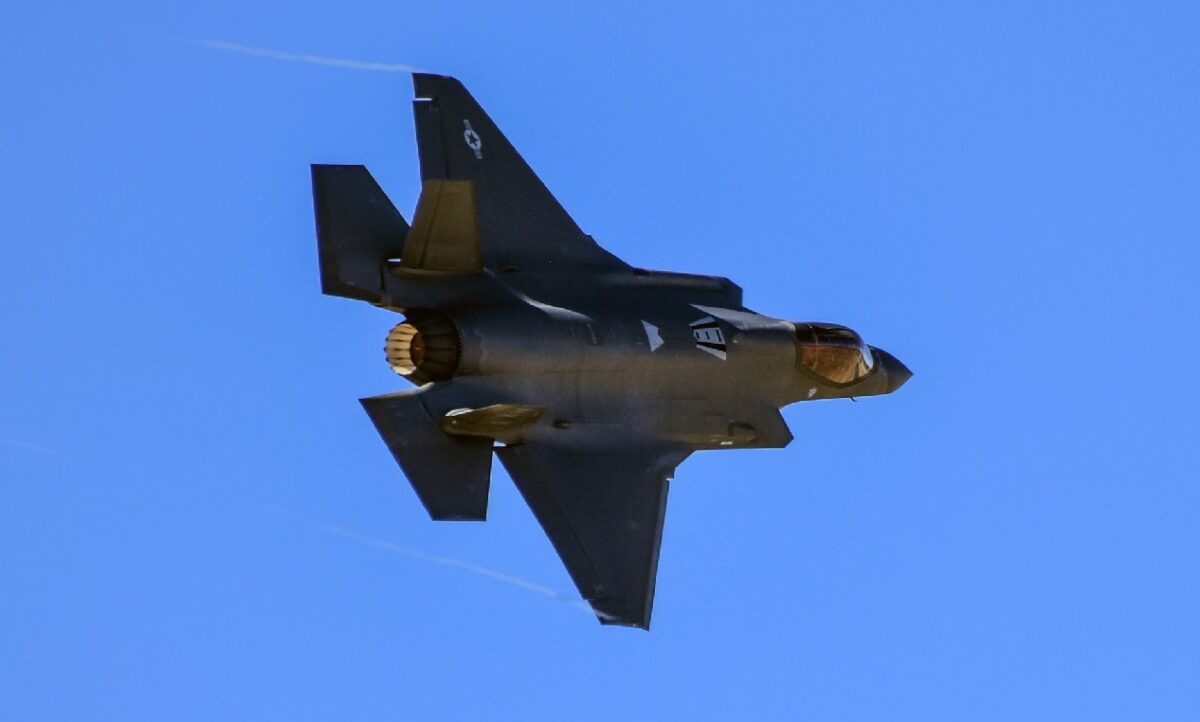 U.S. Air Force Maj. Kristin "BEO" Wolfe, F-35A Lightning II Demonstration Team commander and pilot, performs an aerial demonstration during the 2021 Thunder and Lightning Over Arizona Air Show and Open House at Davis-Monthan Air Force Base, Arizona, Nov. 5, 2021. The last air show and open house DM held showcasing U.S. military capabilities was in 2019. (U.S. Air Force photo by Senior Airman Kaitlyn Ergish)
F-35s Starting to See More Combat  
Proof of what can only be considered a force-multiplying effect that the F-35 brings will be in combat. In 2019, two Air Force F-35As dropped Joint Direct Attack Munitions on an ISIS tunnel complex. This blew up a weapons storage location in Wadi Ashai, Iraq. As of 2021, Lockheed Martin said that six air forces have conducted some type of combat mission with the F-35.
The United States has big plans for the fighter. The goal is the Air Force flying about 1,700 F-35As, then the Marine Corps with about 410 F-35Bs and F-35Cs, while the Navy should put about 270 F-35Cs in service. And judging from domestic and international demand, it looks like the sales and marketing folks, not to mention the manufacturing personnel at Lockheed Martin, will be busy in the future.